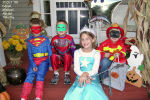 Halloween - I worked from home today. This was the first Halloween in recent memory where I wasn't rushing home from work and barely getting there before it was time to be outside. In many of the years past Claire and I manned a table by the house handing out candy, cookies, and hot cider while Michelle took the younger ones around our neighborhood. Since I've not had any opportunities to exercise this week, I asked Michelle if I could take the kids around the neighborhood while she stayed back with Claire. It at least gave me an opportunity to walk.
Album - After the boys went to bed, I worked on this small album of pictures of the kids on Halloween. Timothy was a fireman, Michael a race car driver, Daniel was Superman and Abigail was Princess Rosalina. For those who don't know, Rosalina is a new Nintendo character introduced with the game Super Mario Galaxy on the Wii. She often has a star following her, known as Luma. In one pictures I stitched together a reference for comparison.
Claire - I also had a little fun today using the unix montage command. A week ago I had used my cameras in a high speed capture mode to record Claire on the trampoline. You can see Claire doing a backflip and an aerial. An aerial is essentially a no handed cartwheel.