Trading Post - Yesterday Michelle and Claire went to Harward's Trading Post. Here's a picture from way back when. Claire's mission was to buy a nice pair of moccasins. When they got back they told me how nice it was on the inside and that I should go there to get a pair of slippers to keep my feet warm this winter.
Mass - Once again we took all the kids to 7am Mass. Once again, I took Timothy out during the consecration for being just a little too... ummm... energetic. There was no parish sponsored 'coffee, donuts, and fellowship' this morning so we took them to Milford's little Donuts Fresh Express as a treat. When we got back home, Michelle and I changed the kids into their snow gear for another bit of time sledding. Soon the temperatures are going to get back into the 40's and 50's, so the snow on the hill won't last long.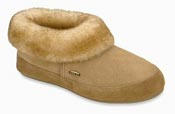 Trading Post part 2 - Later in the morning I head over to see the Trading Post first hand. It did have some nice stuff inside, especially stuff for keeping warm this winter. It wasn't as expensive as I had feared. They had a lot of footwear for men, which surprised me. I picked up the sheepskin lined slippers shown at right. They are toasty! I'm wearing them now even as I type this up. I also bought Michelle this funny mug. On the back it says, "It's hard to keep a straight face around here!" The picture of the five kids reminded me too much of life around here (or the Tarpey house).
WERS - Often times when we're out on the road on a weekend evening we'll tune into a radio program called The Playground broadcast on WERS, a college run station from Boston's Emerson College. Since it's all the way in Boston, the signal tends to fade as we get closer to home and is totally unavailable inside of our house. But there's good news! They are now streaming on the internet! Families across the US can tune in between 5pm and 8pm Saturdays and Sundays to catch children's radio requests on The Playground. I tested it yesterday with iTunes. I was able to send it to our speakers via AirTunes. It's only encoded at 64kps, but it was better than the awful FM reception we had at our house. When they're not doing children's requests, they have a rather eclectic mix of music (all without commercials). Perhaps TJ would like it…
Beaver Brook Farm - I've never heard of the Beaver Brook Farm, but it's fairly close to us in neighboring Mont Vernon. This season they'll have a special feature for kids on the weekends. It'll readings of the book Polar Express. According to the site:
"The book will be read in our new Mount Washington coach by a real Edaville Railroad conductor, in uniform! Each child will receive a copy of the book, a silver bell, and a cookie and hot chocolate. Santa will be stopping by as well. It will be a wonderful Christmas memory for years to come."
I'm not sure how many of the children I'd take if we go. I get the feeling that Timothy wouldn't get much out of it but I think the others would find it fun.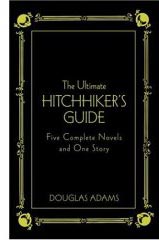 Books - As I mentioned last week, I've been trying to re-read The Hitchhiker's Guide to the Galaxy since I was watching the recently released movie last weekend. I finished it last night. A few years ago I was given the hardcover compendium by the Tarpeys for Christmas. While I enjoyed re-reading the first story, I don't think I'll followup with the other five books of his 'trilogy'. I love Douglas Adams' humor, but need to get back to my backlog of stuff.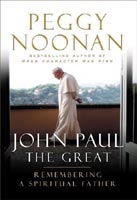 This past week I received a book I had pre-ordered from Amazon months ago. Entitled John Paul the Great : Remembering a Spiritual Father, it's written by a favorite columnist of mine: Peggy Noonan. Peggy writes a weekly article in the Wall Street Journal's OpEd section. Her book should be less intimidating than the biography Witness to Hope, which weighs in at over 1000 pages but was a very thorough biography covering the Pope from birth until its publication. I have that one as well but only look at bits and pieces of it. I don't have the discipline to read the whole thing from start to finish. Hopefully Peggy's new book will be a little easier to get through, albeit much less thorough.

Media - I'll close with a few last bandwidth hogging sound and video clips. Since I've had some free time over this four day weekend, I looked ahead to see what Claire will be assigned in piano soon. She's got a lightweight version of that piano classic, The Entertainer. I've included both her practice version and the "real" version of the song. I've also included a short Quicktime movie of Mighty Timbo having a jam session at the piano. Enjoy!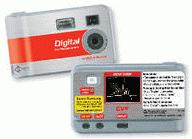 CVS PV2 - I was doing some random Google searching on the old V8 processor that I had maintained and supported for years until June 2004 when we were sold to TransDimension. I still love that thing. For its compact size, it was a very efficient design, a relative screamer. We had licensed it along with our early USB core to a company that used it to make a disposable digital camera. I visited them a handful of times during early development and prototyping. They OEM those cameras for a few retailers, notably CVS pharmacy, but also Walgreens, Ritz, etc. When I was looking up the V8 on the internet, I'd found that there is this whole community of folks who hack that camera to do things — usually to be able to take pictures and pull them off without turning the camera back into CVS. While I don't have a lot of info on the sensor and flash interface, I know the processor and USB on that thing like the back of my hand. Unfortunately I don't know what trouble I would get into for helping on that effort. It surprises me how much stuff they already have just from reverse engineering the thing. I wonder if a former employee of the camera company leaked out some of the stuff. Still, it's nice to see some of the gadgets that I worked on out there in the market and inspiring hackers to use them in unintended ways.