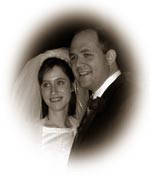 Photo Album - I returned this afternoon from Ed and Jeanette's wedding. Click on their image to see the photo album. The first image is just a straggler that was in the camera of the kids around the computers now that two are setup side by side. The next several pictures show the beauty of inside of the church where they were wed. The album wraps up with several pictures of the couple and their family and friends.
Cincinnati - My trip went pretty smoothly. I did mess up on the morning of the flight and gave Ed an arrival time an hour later than actual. Thus I got sit around the airport for a while. Between arrival and the rehearsal Ed and I went to Skyline Chili. I hadn't had a chance to eat Cincinnati-style chili since moving to New England so it was nice to revisit an old favorite. After rehearsal we had a dinner at a nice Italian restaurant on a hill that looked over the Queen City.
The wedding Mass was Saturday morning at 10:00AM. As you can tell from the pictures, the inside of the church is beautiful. It reminded me a bit of St. John Cantius in downtown Chicago although this church was nondescript on the outside. The wedding was a very Catholic Matrimony Mass, but I don't think Ed and Jeanette would have it any other way, nor would I if I could do it over.
The reception was downtown at the Hilton Netherlands. As is a tradition for the best man, I gave a toast to the new couple. Here's the toast:
"In these times where the meaning of marriage has been so distorted by modern media and culture, it can be difficult to find an example of a truly Catholic understanding of marriage. For example:
The parallels between spousal love and the relationship between Christ and His Church.
Your own sanctification found in working towards the sanctification of your spouse.
The daily acts of mutual self donation and self giving.
The inseparable unitive and procreative ends of marriage.
The life giving love.
The growth in virtue found in the school of daily family life.
This is why we refer to the Sacrament as Holy Matrimony. Like all Christian vocations, it is a means of sanctification. Ed and Jeanette clearly demonstrate this. It has truly been an honor for me to witness and assist with today's event of monumental grace. With the deep spring of graces available in today's Sacrament may God continue to bless and strengthen them. May they always be an example of the Catholic vision of marriage for all who know them for generations to come. To Ed and Jeanette."
Okay, so it's not your typical toast, but Ed and Jeanette are not your usual couple. I've never met a couple who so thoroughly understood the Catholic teachings on marriage and embraced them. I really do believe their example will inspire others. Just for fun I was going to throw in something about if God blesses them with children, they'll be in the grad school of family life. It's even funnier if you know how long Ed's been in grad school.
Movies - As if the photo album won't already spike the site bandwidth, I thought I'd go for broke and put up three videos. I've mentioned in the past how the boys like to ride their Big Wheels down the hill in our back yard. Below are three short QuickTime movies of them in action. Each is 2 - 2 1/2 megabytes, so broadband access is recommended.