Blackberry - This is so like our government. Excerpt from today's WSJ email to subscribers:
U.S. Government Asks Court To Ensure BlackBerry Service

The U.S. Government is seeking to ensure BlackBerry emails continue running among its staff if a Virginia court issues an injunction on BlackBerry sales and service in the U.S.

"The U.S. government is a major user of BlackBerry devices and technology to allow its employees to access email, and to send messages, when they are away from their offices," the filing said. If there is an injunction "it is imperative that some mechanism be incorporated that permits continuity of the federal government's use of BlackBerry devices," it said.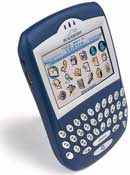 So the government might stop the sales and service of the RIM Blackberry über-cell phone/PDA device to the general population, especially professionals who find them invaluable for getting their work done on the road and in the field, but exempt themselves from having to do without their convenience. "Go ahead and stop the taxpayers who pay our salaries from buying & using this phone, but please, high court, don't let your injunction effect us!" Can't live by their own laws and rulings.
And no, I don't own one. My cell is the incredibly ordinary Motorola i530. No camera, no Java, no MP3 playing, no Bluetooth, no calendar, no email, just a black and white screen, but rugged as hell. Heck, I could fend off a mugger with my cell. My laptop is a laptop; my camera is a camera; my MP3 player is an MP3 player; my cell phone is a cell phone. To heck with "convergence". I've been hearing the term for over half a dozen years now.
Chunky's - I forgot to mention this earlier this morning. I was perusing the Milford Cabinet last night and there was a front page story that our humble little town might get a Chunky's Cinema Pub. If it becomes reality, that would be so cool. Our area would have such an unusual mix of quirky movie theatres: the Milford Drive In, the Wilton Town Hall, and a Chunky's.