Okay folks, it's your word of the day: Anticlimactic.

USAF - Yesterday I faxed in a form to the USAF resigning my commission as an officer. Granted, I've been inactive for 11 years. Still it seemed weird that after all I went through, I simply checked a box, signed and dated, and sent it in via a fax call. All the screening back in 1985, 4 years in college, field training, over five years active duty, and it all ends with a check box. Supposedly within the next three months I'll get my official honorable discharge certificate.
In a way it reminded me of years ago when I picked up dad after his last flight as a navigator. Over three decades of military service and all I did was just pick him up at the base and take him home. It seemed like such a quiet wrap-up after all that preceded it.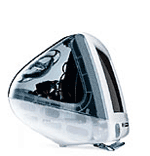 iMac - It took a while for MacEdge to get the replacement CD-RW drive but it came in yesterday and they promptly installed it in the iMac. My co-worker Will and I had lunch in south Nashua at La Careta (since MacEdge is nearby) and then picked up the iMac on the way back to the office. I'm not sure what I can do going forward to keep Timothy from doing stupid things like putting pennies in the CD slot. He's not a bad boy, he's just so curious. I don't want to ruin that. He might discover the cure for Alzheimers some day, if for no other reason than he'll try everything in his research. By that time I'll be grateful that he had such boundless curiosity, if I remember who he is.
Claire - I picked up Claire from piano lessons last night on my way home from work. Because of a conflict we have next week and because her teacher will be gone the following week, Claire won't have a lesson for three weeks. She should have plenty to work on, including two new songs that I'm looking forward to recording.
Veterans Day - Speaking of the kids, the girls have Friday off for Veterans Day. Michelle will be home with all five without me. She's having her friend Kathy come over with her three kids. She used to have visits with Kathy more often but now all three of her kids are in school so getting together is often more awkward to schedule.
Suit - Next weekend is Ed's wedding. (Note: The photo represents Daniel's at his Baptism. Ed is his godfather…) This weekend I have to go and get a suit for it. I haven't bought one since the twins were baptized.